What is Pilates?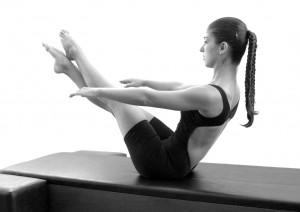 Founded by Joseph H. Pilates, it is a total body-conditioning regime for both men and women. It changes not only the way you look, but also the way you feel and move.
Pilates targets the deep postural muscles of the body and rebalances muscle groups, bringing the body into correct postural alignment. This restores natural movement and allows the body to function more efficiently. Pilates balances strength with flexibility and increases stamina and co-ordination.
Stott Pilates comprises hundreds of exercises, which allow workouts to be customised to meet participants' individual needs. Pilates is not just the latest fad. It has been in use for 80 years, and is enjoying a period of unprecedented popularity. It is also receiving respect from the medical community, physiotherapists, orthopedic surgeons and osteopaths as a valuable part of the rehabilitative process
Who will benefit from the Pilates method?
In a nutshell, everybody! It is suitable for men and women, young and old. We take a progressive approach so it is suitable for first time exercisers as well as accomplished sports men and women. It can help those that suffer from many problems including back, knee and shoulder pain. For those who simply want to improve their appearance, a regular Pilates session will result in flatter abdominals, firmer buttocks and shapelier legs and arms. We aim to create a longer, leaner body without adding bulk.
Benefits of Pilates
The technique tones and lengthens muscles
Increases abdominal and back strength
Improves posture and body mechanics
Reduces joint and lower back stress
Balances flexibility with strength and reduces stress and tension
It is a great stress reliever and can help control panic attacks and other stress related conditions
One of the safest and most effective exercise programmes available